JUNE 22, 2021 | LEAN MANUFACTURING, PRODUCTION LINE MONITORING, MANUFACTURING INSIGHTS
Manufacturing industries had been facing numerous challenges in order to achieve higher output despite the increasing operating cost, especially during pandemic time.
These has made the situation worst when there is:
Unplanned downtime (equipment's, machines or other critical assets)
High energy & production wastage
Reduced manpower as per government's SOP
Lacks historical analytics as conventional production and maintenance dashboard only has real-time data
Inaccurate machine data due to manual logging
Additional recovery time due to longer troubleshooting period
Unknown root cause and unidentified production process limitations due to limited knowledge and lack of experience in dealing with specific problems
Unfortunately, one of the great ironies here — and one that keeps many businesses from carrying out actionable results — is that implementing a new system necessitates additional short-term downtime.
The concern: It requires days of downtime to implement conventional production line monitoring
It's no secret that installing most production line monitoring solutions take several days. Machines are unavailable during this period, operators are idle, and depending on the technology, you may need to hire expensive outside specialists.
As a result, it is important to factor in implementation time when accessing machine monitoring solutions. Inquire as to: how long will it take to implement? What are the IT requirements? Who is in charge of the setup? What sort of guidance is needed?
The solution: Tanand gets you up and running within a day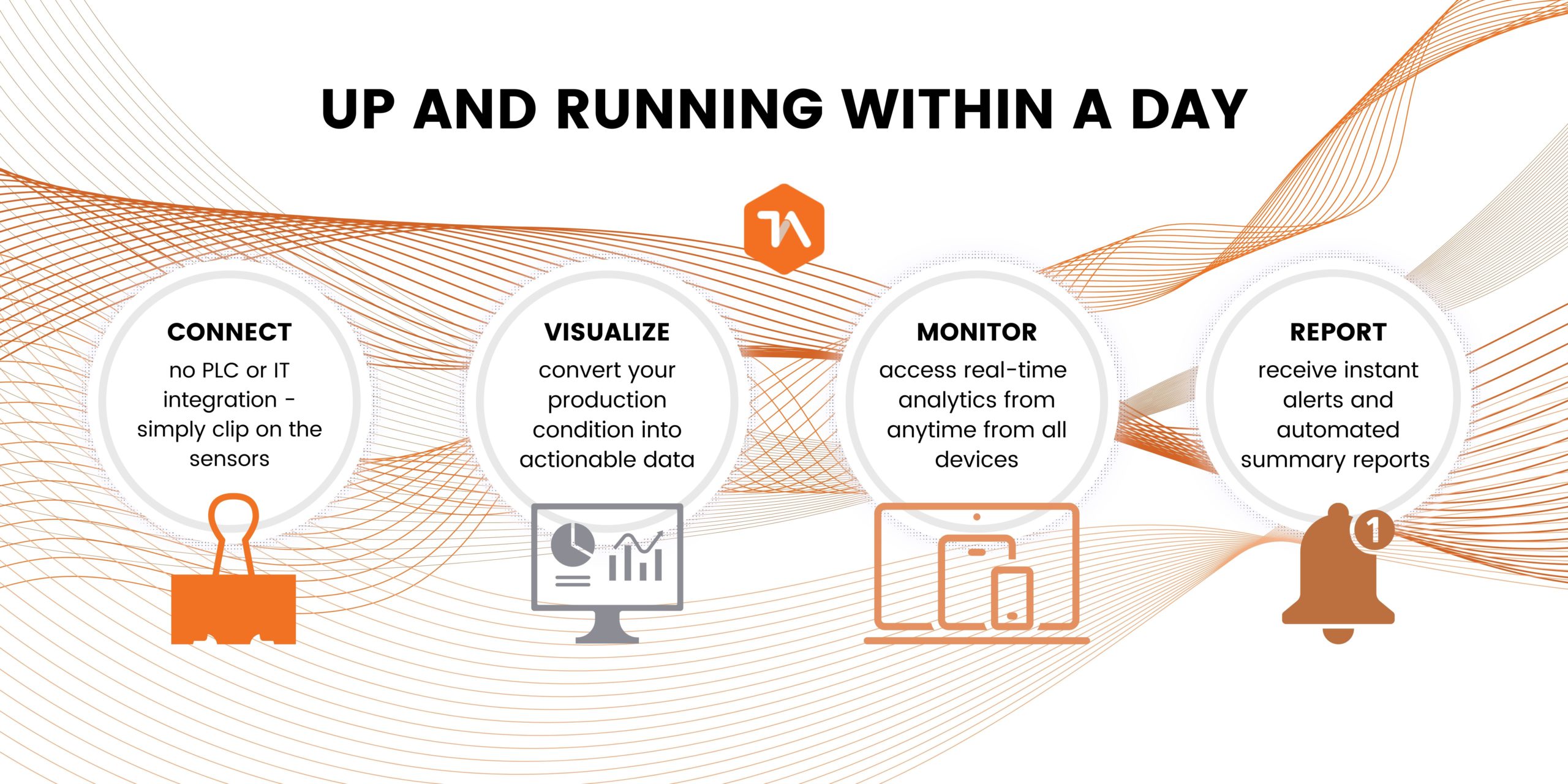 Tanand installation may generally be accomplished in a single day, entirely in-house, for small and mid-size factories. In a nutshell, this is how it goes:
Our non-invasive sensors are highly integrable to be clipped-on to the outside of the body without requiring PLC integration. One of your maintenance professionals can install each sensor on any machine in around 10-15 minutes.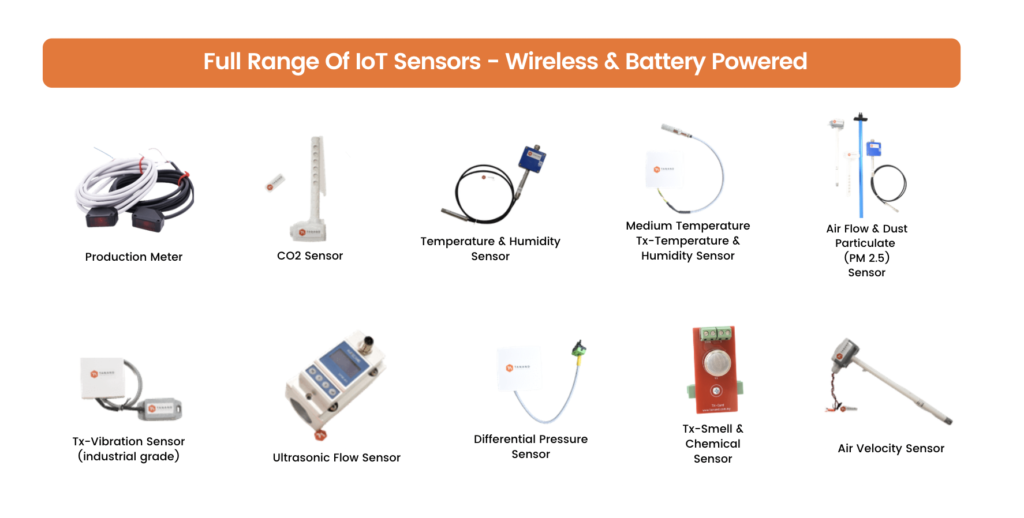 Our sensors can be linked to your WiFi network, Power over Ethernet (PoE) and LoRa, which will then be able to work independently without the need to upgrade your existing infrastructure.
Although our sensors can run purely on Lithium battery (last up to >2 years), as a 5Vdc sensors (Jumper selection) or any nearest power source such as lightning point or SSO, we can also provide a simple DC-in-a-box to supply uninterrupted DC power to the sensors with ease and speed.
The sensor may be installed during the scheduled machine downtime. There's no need for complicated wiring works or major dismantling and reprogramming work, as well as no extra first-piece inspection or scrap risk.
Even though we provide on-site installation, our software is so simple to use that your staff will have the system up and running in no time with just minimal training (live and on-demand) from us.
This one distinction alone suffices in contributing as to why manufacturers that have been putting off digitalization of their factories for years eventually pick us as their machine monitoring supplier.
Access our demonstration video in how to get data fast and east from wireless sensors.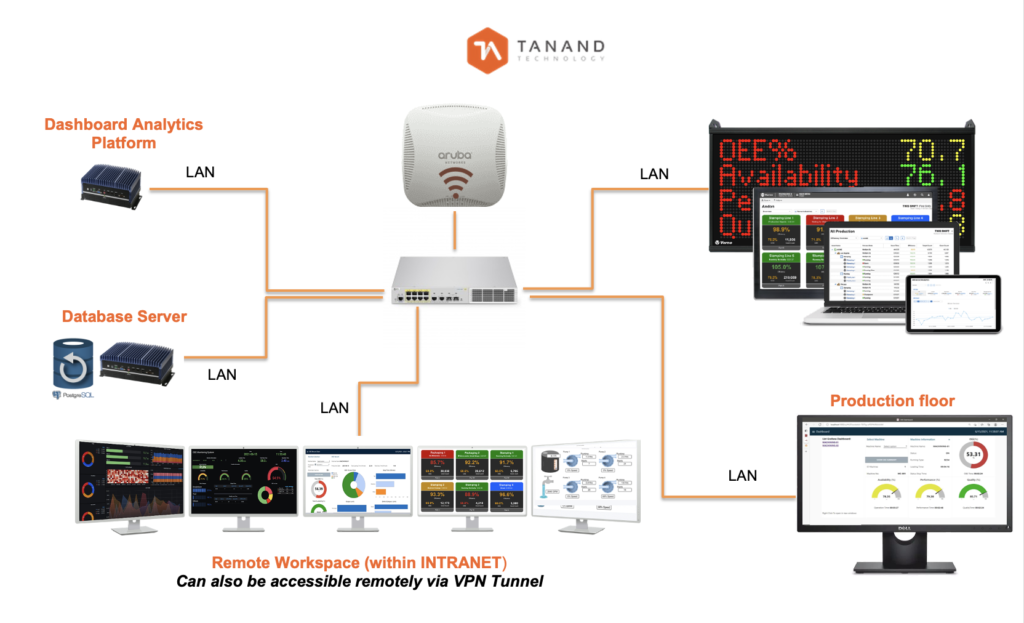 Centralize all your manufacturing process parameters with real-time monitoring through RTMA
Tanand's Real-Time Monitoring Visualization and Analytics platform (RTMA) provides accurate insights for fast decision making to empower your team. RTMA can achieve 2 types of monitoring:
1. Energy, Process Data, and IoT sensors monitoring:
By combining machine, energy, process data, PLC, SCADA and IoT sensor data all into single unified real-time monitoring & analytic platform.
Remotely monitor and centralize all your application/server/machines data in real-time.
Reduce the time needed in manual recording and compiling of data and logs of multiple process parameters, as well as data loggers to greatly reduce troubleshooting time.
Stay informed at all times to make better decisions that maximizes facilities and resources.
Quickly be informed with real-time notifications when there is a breach of set points or abnormalities, coupled with a detailed report that pinpoints the time frame when those unpredicted events occured.


Reduce energy consumption.
Identify unnecessary wastage in operations.
2. Production Monitoring:
Real-time production target, actual target, performance target and efficiency are key metrics that we monitor for all manufacturing plants.
Get insights into real-time production performance.
Provide visual feedbacks to machine operators.
Track server/router/application/machine downtime.
Identify top losses and wastage in production.
Motivate production team with KPI.
Automate production reports and remove unnecessary paperwork.
Trace back with batch numbers when certain thresholds or parameters are breached.
Input downtime, stop time, rejects reason, cycle time, and operator ID using QR code scanner: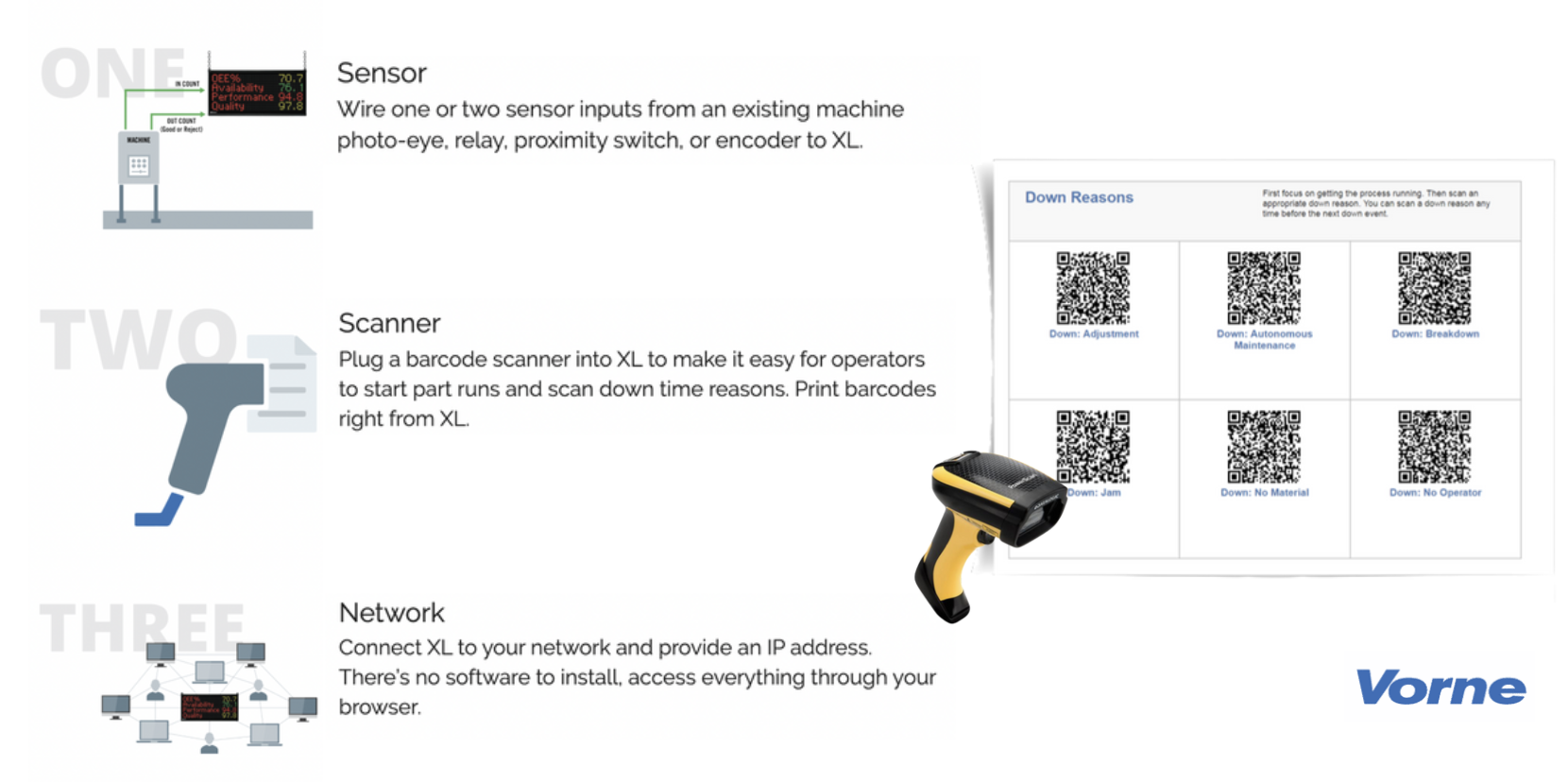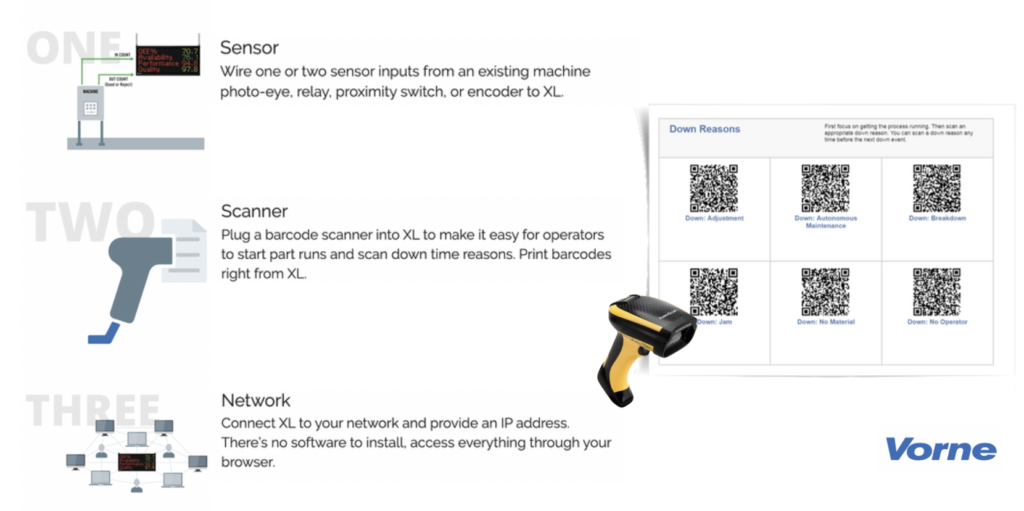 With this method, data are captured without a keyboard or touchscreen, saving time and effort of operators and trained machinist to record additional small inputs (such as rejects reason, small stops reason, small adjustments etc).
This method encourages fine data capturing for a better root cause analysis in OEE improvement, so that management can execute the right improvement plan by tapping on the factories' hidden losses to achieve higher production output.

Manufacturing industries needs to engage in real-time systems to better increase their production yield.
Take note, managers and engineers from the facilities and maintenance team of these industries:
Automotive Manufacturing
Chemical and Petroleum
Machine Makers
Pharmaceuticals
Food and Beverage
Plastics Manufacturing
Paper and Printing
Textile Mills and Apparel
Transportation Systems
Electronics and Semiconductors
Achieve the following benefits with RTMA:
Future-proof your critical equipments with 64-bit Technology
Preserve existing hardware investments
Reduce engineering and troubleshooting time and cost
Automate collection of downtime cause and responsibility
Web-based project management and end-to-end deployment
Quality and energy analytics capabilites
Standard, custom and scheduled reports
If you are one of the advancing IR4.0 manufacturers looking for an experienced consultancy + solution provider for production line monitoring systems, Tanand is the answer for you.

Take advantage of our 90-day rental subscription program to learn how Tanand may help your factory become more productive with zero commitment, and to see for yourself how simple and effective it is to achieve energy savings and improve productivity.